In the field of simulation, hydraulic systems are numerically analyzed. In the past, numerous projects at the IHS were successfully completed using simulation, both in research and in collaboration with industrial companies.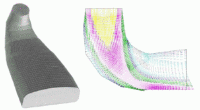 Our references range from the calculation of individual components such as nozzles and fans to the transient calculation of turbines of all power classes to the analysis of an entire power plant.
Contact information:
Please direct requests to Prof. Dr.-Ing. S. Riedelbauch.
CFD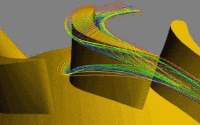 The largest field of activity of the IHS is the flow simulation. Employees have powerful workstations for creating and editing complex models. Student work is carried out in a computer room with numerous workstations and all necessary hardware and software tools.
For the implementation of small and medium-sized simulations, an institute-specific computational cluster can be used. Larger simulations are processed in cooperation with the computer center of the University of Stuttgart. There are modern high-performance computers available, which enable even the largest simulations.
Examples of practical application of CFD: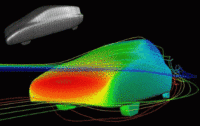 Components of hydraulic machines

B

lood flows

Flow around a cooling tower

Flow around a vehicle

Flow through fans
System analysis
The computer simulation of control and regulation processes in hydraulic systems includes the examination of all individual components such as pipelines, pumps, valves and water locks. These are modeled and the dynamic behavior is analyzed.
Hydraulic systems and networks can be recorded and simulated with the SIPROHS software developed at the Institute for the company Voith Hydro. It provides a library of program modules that can be used to describe a variety of plant components. The program will be further developed as part of ongoing projects with the aim of being able to record all possible operating states.

With the VADYKAN program, which was also developed for Voith Hydro, it is also possible to calculate transient flows in open channels. VADYKAN has a modular structure and has program modules for turbines, weirs, channel branches and locks.